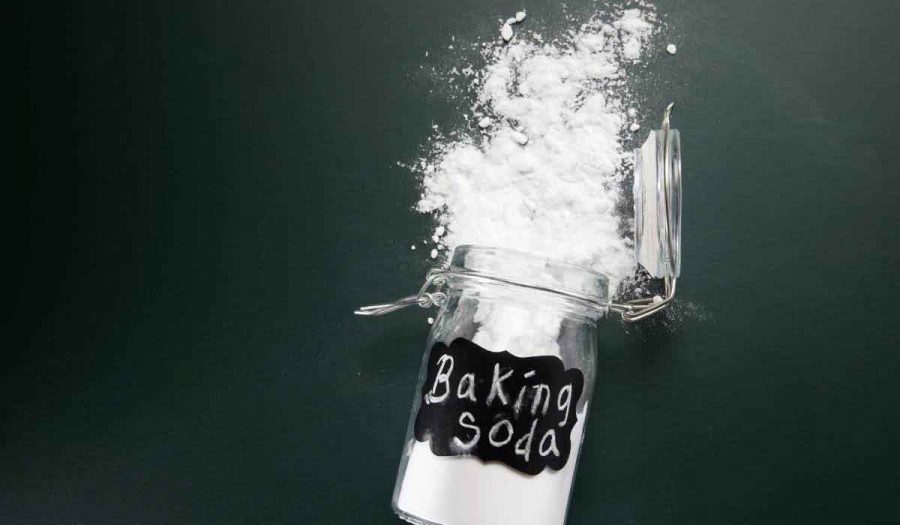 8 Finest Ways To Use Baking Soda For Skin Whitening
Introduction
We always look for skin whitening creams and continue using chemical-based cosmetics and products. Similarly, harmful creams lead us to severe skin issues, which can get worse if left untreated. Therefore, natural ingredients like baking soda for skin whitening can provide expected results without any toxic reactions. The God gifted ingredient baking soda has numerous beneficial properties for human skin and face. Baking soda-Sodium bicarbonate (NaHCO3)- use for multiple household cleaning and industrial purposes as medicine, food additive, and cleaner. [1]  One can easily tackle all skin-related issues, including dark spots, scars, and dark tones, by just wise use of baking soda. Additionally, baking soda when mix with lemon does wonders in whitening skin without any harmful side effects. 
Benefits of baking soda for skin
Baking soda has antibacterial and anti-inflammatory properties, which are quite beneficial in getting rid of several skin issues. The major benefits of baking soda for the skin are:
Removes acne scars and dark spots
Acne and dark spots are the skin problem that every human has been aware of.
According to a study worldwide, people spent 4.92 billion US dollars in 2016 on acne treatments. Furthermore, the value is expected to increase in 2025 to 7.35 billion US dollars. [2]
Why spend dollars when you can treat acne scars and dark spots with baking soda. Simply create baking soda and water paste, try it on your acne marks and areas, and then see the excellent results. Baking soda and lemon juice for dark spots are also beneficial; try this paste for best results.

Baking soda as a face scrub 
Baking soda as a face scrub works as a natural cleanser because of the bitterness in it. It expands the pores of the face and cleanses the excessive oil from the skin. 
Removes body odor
Most people prepare homemade deodorant to remove body odor with baking soda as it is effective and inexpensive at the same time. It can provide unbelievable results for people facing body odor and end up providing a pleasant smell. 
Soothes mild skin rashes and irritation
The anti-inflammatory properties of baking soda help reducing skin irritation, rashes, and bug bites. Moreover, in most medicated creams, it is added to treat skin rash.
Removes tan from skin
The versatile baking soda is beneficial in removing tan and sunburn from the skin. All you need is to mix the baking soda with water and vinegar, apply it to the affected area, and then leave it for at least 15 minutes. After that, one can observe remarkable results and get clear and smooth skin. People having excessive skin tan can repeat the process daily.
Kicks out blackheads
The blackheads are caused by the accretion of dirt, sebum, and dead cells in the skin. It is a severe issue, but we usually do not take it seriously. Baking soda can quickly treat blackheads because of its antibacterial properties. It opens the pores and removes blackheads.
Whitens skin
Baking soda can provide glow and shine to the skin by just following simple steps. One can get clear and bright skin by just using baking soda as a face wash. Most importantly, apply moisturizer after face wash and check results. Moreover, the addition of more natural ingredients in baking soda can make your skin lightening and smoother.
8 Best ways to use baking soda for skin whitening
However, people with sensitive skin may face dryness on the skin after application. So, it is recommended to use baking soda along with moisturizer for perfect results. Check out the following 8 finest and simplest ways to use baking soda for skin lightening. 
1. Water and baking soda
Take 1 tbsp of baking soda and 1 tbsp of water and mix it well. Create the proper paste and apply it to your face as you use a face mask. Then, you need to keep it on your face for at least five minutes and let it dry. After that, wash out your face with lukewarm water and clean with the help of a towel. Thus, you can repeat the same process for flawless white skin for the next three weeks.
2. Apple cider vinegar and baking soda
Add 3 tbsp of apple cider vinegar with 2 tbsp of baking soda and mix the ingredients well. Then apply on the face, leave for 15 minutes and wash it off with warm water. Thus, you can observe the result by doing the same process twice a week.
3. Baking soda and lemon for skin whitening
Baking soda and lemon juice work for dark spots, but it is ideal for skin whitening too. All you need is add 2 tbsp of baking soda, 2 tbsp of lemon, 1 tbsp of honey, and 1 tbsp of sugar. Then, create a thick paste and apply it as a mask. Leave the show for 15 minutes and let it dry naturally. Then, rinse it off with lukewarm water, and you can feel fresh, soft, and smooth skin right after. 
4. Honey and baking soda
Honey itself has excellent properties which exfoliate skin and reduces dead skin cells. Moreover, love can get one glowy skin within no time. But the combination of honey with baking soda multiplies the effects and gives perfect results. All you require is to add an equal amount of love and baking soda and mix well to create a paste. Then, apply it gently on the face or area where you want fair skin. After leaving it for 15 minutes, you can remove it and cleanse it with warm water. You can keep massaging the paste on the affected area for a couple of minutes for better results. Therefore, this mask would get perfectly soft, smooth skin. It is the standard remedy which people use for sunburn and tan skin problem.
5. Baking soda and turmeric
Take a bowl and add baking soda 2 tbsp, turmeric 2 tbsp, few drops of rose water, and 1tsp lemon juice and create the paste. The past will help one in reducing dark spots, scars, freckles, and dullness. This paste can be applied to the area where you want white skin, then leave it for at least 10 minutes. Then, wash it off or clean it with a wet towel properly. By repeating the same process twice, a week can solve all skin-related issues. Hence, you can apply moisturizer right after washing this face mask so that your skin cannot get dry.


6. Baking soda and coconut oil
This combination is responsible for treating pigmentation, dullness, acne-prone skin, and black scars. Moreover, this paste is suitable for all skin types, including dry skin. Add a tbsp of baking soda, ¼ tbsp of coconut oil, and few drops of lemon and mix well. Therefore, the paste is ready for application on the face, as the coconut oil softens skin and cleans pores. Additionally, the lemon and baking soda would work as a fair cream and give users satisfying results.
7. Tomato and baking soda
Tomato is also blessed with antioxidants ingredients, so it's highly recommended to remove tan and sunburn from the skin. It is also used in numerous face scrubs and skincare products. You can take a tbsp of baking soda and few drops of tomato juice and create a paste. With that paste, you can massage it on the skin gently for five minutes and rinse it off with water. Hence, tomato with baking soda creates such a magical paste that reduces sebum and provides bright skin.
8. Aloe vera and baking soda
Take an equal amount of both ingredients and prepare a runny paste. Then apply it on the face for 10 minutes and wash it with water. Then you can observe immediate changes with aloe vera and baking soda did on your skin. This mixture can remove dead skin cells from the skin and moisturize it deeply. The people facing dry skin issues should surely opt for this remedy and can experience the best results. The excessive oil on the outer layer of sin causes dullness. Similarly, aloe vera cleanse oil and unveil the brightness of the face, and repairs skin. 
Conclusion
So, the above eight most acceptable ways to use baking soda for skin whitening can surely provide one magnificent skin. Moreover, baking soda, when combined with such natural ingredients as honey, lemon, aloe vera, and others, then wonders on skin and face.
Do share your natural ingredients skincare routines with us in the comment section below.
Related Links