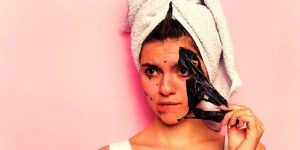 Is A Diy Blackhead Mask Effective?
Blackheads are some of the most annoying to deal with, and they are abundant, hard to hide and keep coming back. Blackheads are filled with dead skin cells, oil, and debris. Blackheads are filled with oil, dirt, and dead skin cells that oxidize when exposed to the air.
If you treat them in their earliest stage, you can prevent more severe eruptions. Blackheads fill and expand pores, and the larger the blackhead can become, the larger your pore will be. The risk for blackheads is more significant if the skin is oily, and you may wonder if your oily skin will ever go away. No matter what stage of life you are in, you can make your blackhead-fighting masks. Therefore, some effective DIY blackhead masks are described below.
Is a DIY Blackhead Mask Effective?

Benefits Of Diy Blackhead Mask Ingredients
Green tea treats oily skin for exfoliation and clear clogged pores.
Lemon is an antioxidant, a detoxifying agent, an antiseptic, and an astringent.
Tea Tree Oil possesses anti-inflammatory and anti-microbial properties.
Gelatin improves skin elasticity.
Aloe Vera Gel bears anti-infectious and anti-inflammatory properties. It also acts as a moisturizer and cooling agent.
Cucumber reduces inflammation and rehydrates the skin. It also soothes acne-prone skin.
Orange Peel is beneficial to unclog skin pores reduces inflammation. Moreover, it is vital to care for acne and pimples.
Egg White effectively cleans and closes skin pores and turns fragile skin smooth and tight.
Egg Yolk is rich in Vit A, generally prescribed for acne treatment.
Milk contains Retinol (anti-ageing and antioxidant), Vit D (anti-ageing and anti-inflammatory), and Lactic acid (rejuvenate dead skin cells, anti-ageing, and skin cleanser).
Mint can clean clogged pores, clear dead skin cells, and rehydrate the skin.
Honey is itself a natural anti-bacterial and antiseptic remedy. Further, it keeps the skin moist and free from oil.
Cinnamon is an antioxidant, anti-fungal, and anti-bacterial agent. Also, it keeps the skin dry by promoting increased blood flow through the skin.
Charcoal Powder helps draw dust, germs, bacteria, impurities, and excess oil through the skin pores. Additionally, it acts as a cleansing agent to reduce acne spurts' chance.
Turmeric reduces acne and stimulates the skin healing process.
Lavender Oil is a natural moisturizer and anti-bacterial tonic. Also, it heals acne, filters the clogged pores, and lightens the scars.
Gram Flour is well known for controlling excess oil. Moreover, it also contains zinc, which is anti-infectious and subsequently fights against acne.
Apple Cider Vinegar is known for its anti-inflammatory and protective nature against certain toxic atmospheric elements, and it also acts as a toner.
Sandal Wood Powder works as an anti-bacterial and exfoliating agent and dramatically reduces sunburn and suntan.
Yogurt is an exceptional dermatological regime for its Lactic acid contents, keeping the dermis moisturized and rejuvenating the epidermis by shrinking and closing the clogged pores.
Oatmeal is outstanding in absorbing excess oil and creating an anti-inflammatory and anti-oxidative base over the damaged and acne skin.
19 Diy Blackhead Removal Masks
Utilizing available ingredients in your kitchen, you can use any of the following blackhead removal masks that suit your skin. Each ingredient has its characteristics, and each Mask has its appropriate components. Before applying a patch to a large part of the body or face, it is advisable to do a patch test over a small skin area.
Diy Blackhead Removal And Cleanser Green Tea Mask
Green Tea And Lemon Mask
Make a strong green tea solution by steeping the green tea leaves or powder in hot water for 5-6 minutes. Let it cool. Add a little lime juice and stir well. Apply this solution once weekly to sunspots and blotchiness.
Green Tea Tree Oil And Lemon Mask
Use 1/2 cup steeped Green Tea, 2 tbs Tea Tree Oil, and 1-2 tbs lime juice. Apply a thick layer over the face and leave for 20-30 min. Then, remove with a piece of cotton and rinse with tap water. Do it twice weekly for the desired results.
Green Tea, Gelatin, And Aloe Vera Mask
Take 1tbs Aloe Vera Gel, 1tbs Gelatin powder, and allow the steeped Green Tea to cool. Then, mix all three ingredients and make a runny paste. Put it on the face and leave for 20-30 min before rinsing off. Do it twice a week for good results.
Green Tea And Cucumber Mask
Use steeped Green Tea and Cucumber extract or juice. After that, stir well and apply over the face and neck for 20-30 minutes. Rinse off with cold water and apply any neutral-based moisturizer as per need.
Diy Blackhead Removal Peel Off Mask
Orange Peel-Off Mask
Firstly, let the Orange Peel dry out and makes a powder of it. Prepare a semi-thick paste by mixing it in Raw Milk or water. After that, apply it with a facial brush and leave it for 20-40 min. Finally, remove a wet cotton piece and rinse with water to clean up the residues.
Plain Egg White Mask
All you need for this DIY Blackhead Removal Mask is fresh egg white of 1-2 eggs. Put on the egg white with a soft brush over the whole face and neck for at least 20 minutes, can apply a double coating over the prominent Blackhead areas ( Nose, Chin, under eyes, etc.). Peel off after it has become dry. Rinse off with lukewarm water for any residues. Above all, Plain Egg White Mask produces an astonishing effect on the first application and can use twice weekly for more consistent results.
Egg White And Lemon Mask
Put together an egg white and one lemon extract. Then, apply it to affected areas with cotton dipsticks or the face with a brush; for astonishing effects, keep the Mask onto the face for 20 min.
Gelatin, Milk, And Egg Yolk Mask
Make a thick blend of 1 tbs Gelatin, 1/2 cup Raw Milk, and 1 Egg Yolk. Apply a double layer and wait for 20-30 min until dry. Then, Peel off and rinse with tap water. Use at least twice weekly.
Gelatin, Mint, And Lemon Mask
Take one small bowl of mint leaves and let them boil in some water or make a blend of Mint leaves. Add 2-3 tbs Gelatin powder into warm water—mix 1 tbs Lime juice into these 2 ingredients. Apply a semi-thick layer over the face and neck and leave until dry. Then rinse with cold water. Use twice weekly for best results.
Raw Milk And Honey Mask
Have a Raw Milk and Honey base ready and put it on affected areas or the whole face. Stick cotton chips onto the applied sites. Wait for 30 min. Then Peel off and rinse with water. Apply moisturizer as per need.
Cinnamon And Honey Mask
Stir an equal quantity of Honey and Cinnamon and spread over the face with a soft face brush. Wait until dry. After Peel off and rinsing with tap water, apply moisturizer
Charcoal Mask
Add activated charcoal powder into water and essential oil (lavender oil or tee tree oil. Prepare a runny paste and apply it to the face and neck. Let it dry. Finally, peel off the Mask and wash out with cold water for residues.
Lavender Oil And Turmeric Powder Mask
Firstly, mix both the ingredients to make a semi-thick paste. Apply with a facial brush and leave for 30 min to dry. Rinse with cold water. Use once weekly for desired outcomes.
Diy Mask To Remove Blackheads And Shrink Pores
Milk And Gelatin Powder Mask
Microwave a small cup of Raw Milk and add gelatin to make a runny paste. When it cools down, apply the mixture onto the face and neck with a facial brush and let it dry. Then wash out with cold water. Don't twice weekly for consistent results.
Sugar And Gram Flour Mask
Prepare a semi-liquid puree of sugar, let it cool, and then mix it into 1/2 cup of Gram Flour. Make a runny paste and apply on to the face and neck. Leave the Mask until dry. You will feel tightness when it fully dries out. Rinse with tap water. Sugar and Gram flour masks are most effective in summer.
Diluted Apple Vinegar And Baking Soda Mask
Mix 2 tbs of Baking Soda into diluted Apple cider vinegar. Make a runny paste and apply it to the face and neck. Let it dry, then rinse with cold water. Use once weekly.
Diy Blackhead And Acne Removal Mask
Honey, Lemon, And Turmeric Mask
Mix 1tbs of Honey, 1 Lime juice, and 3tbs of Turmeric powder and make a thick paste in a glass bowl. Apply it with cotton and leave until dry. Then Wet a cotton piece and gently remove and rinse with water. Do this at least once a week.
Oatmeal, Yogurt, And Honey Mask
Make a thick puree of 1 tbs yogurt, 1tbs raw honey, and 1 tbs Oatmeal. Oatmeal should be soaked for a few minutes into yogurt. Apply the mixture onto the face and neck, then place a face mask paper and dry it for at least 15 minutes. Wash it with lukewarm warm water. It is sufficient to apply this DIY Blackhead Face Mask once a week.
Sandalwood And Turmeric Powder Mask
Gather all the needed ingredients and blend them in a glass bowl with water, Honey, or milk. Make a thick paste and apply it over the face and neck. Use at least once weekly.
Lavender Oil And Bentonite Clay Mask
Make a thick mush of Bentonite Clay into the Lavender Oil and smear it onto the face and neck. Leave it until dry. Furthermore, wash out with cool water and apply any day or night face lotion or moisturizer. Additionally, be careful to use a Bentonite clay mask in winter as it causes slight dryness.
Faqs
What Are Blackheads?
Blackheads are the hair follicles blocked with oil, dust, germs, and oxidation and appear to be small bumps on the skin's surface after a long period. In the presence of oil, dust, and germs, the body's protective skin barrier, called melanin, becomes damaged and discoloured.
Is This Necessary To Remove Blackheads?
It would be best to squeeze off Blackheads if you didn't make it a habit. Sometimes blackheads can be removed, but not often in routine practice as it leaves a hole in the skin, making it more likely to come back.
What Is In A Peel-Off Mask?
The main ingredient of the blackhead peel-off mask is activated charcoal used to bind itself to chemicals and toxins, drawing them from the body. It also absorbs oil from the skin. 
A charcoal mask usually contains glue to bind the ingredients and make sure the formula sticks to the face. Fruit acids such as lemon and grapefruit can enhance the exfoliation effects of the Mask while also providing deep cleansing.
 Are Charcoal Peel-Off Masks Safe?
Charcoal peel-off types of masks are beneficial for sensitive skin without any hesitation.  You'll want to look for specific ingredients depending on your skin type. If you have oily skin, look for a clay mask to absorb the excess oil. If you have dry skin, you can try a hydrating sheet mask.
Therefore,DIYBlackhead removal is helpful for your skin at home. It's a safe choice for those with oily skin to use charcoal. Peel-off masks are an excellent way to deep clean your face if you have sensitive skin. The different types of effective do-it-yourself are described in this article.
How to use Aloe Vera hair mask?