Some people call it a Brazilian blowout or Brazilian keratin treatment, but it is a chemical procedure that straightens hair for up to six months. It can reduce frizz and give hair an intense glossy sheen.
Once you've had your hair shampooed, a stylist will apply the treatment to your hair and let it sit for about 30 minutes.
Some stylists prefer blow-drying hair before applying a hair treatment. Flat ironing the hair in sections will seal the treatment into place.
This technique, developed in Brazil in 2003, reduces static electricity and improves hair manageability. They use products containing carbocysteine to straighten their hair.
To help you decide whether keratin treatment is right for you, here are the benefits and drawbacks.
How To Straighten Hair At Home Naturally? | 10 Best Ways To Straighten Your Hair
What Is A Keratin Treatment?
Hair, skin, and nails contain keratin, a structural protein that plays a vital role in their formation. Keratin is found in styling products to strengthen hair, and so the term "keratin treatment" is a misnomer. The semi-permanent hair straightening treatment keratin, according to Fitzsimons, "smooths and adds shine to frizzy hair."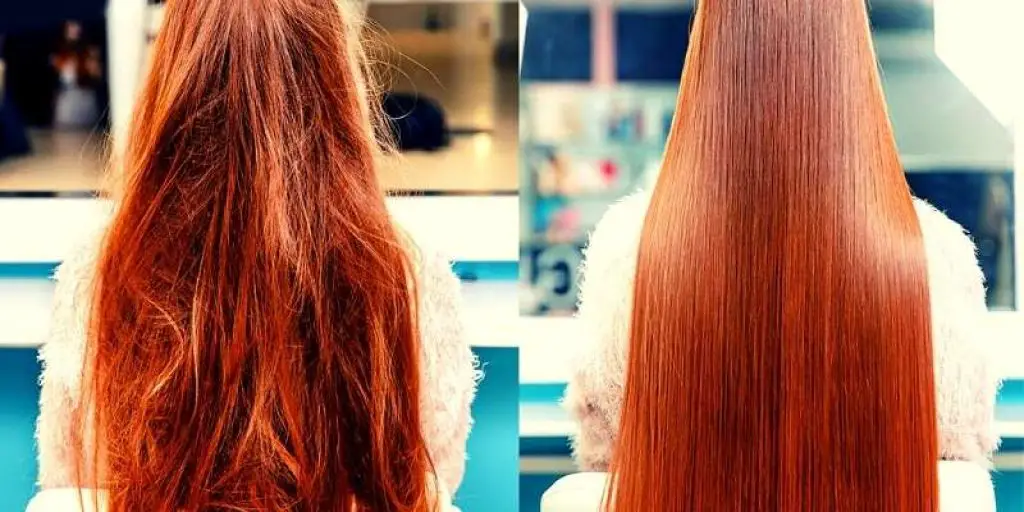 However, keratin isn't used in the treatments for any reason. By breaking hair's bonds and re-sealing them in a straighter position, glycolic acid or formaldehyde derivatives can be used to straighten hair.
The results can last for up to six months after the solution is blown-dry and sealed with a flat iron. If you're looking to reduce frizz, increase shine, or reduce the frequency with which you straighten or blow-dry your hair, Fitzsimons says these treatments are an excellent option for you.
What Is The Process Of Straightening Hair Using Keratin?
The length and type of hair determine how long the procedure will take. Depending on the texture and density of the hair, a salon visit can take anywhere from two to four hours.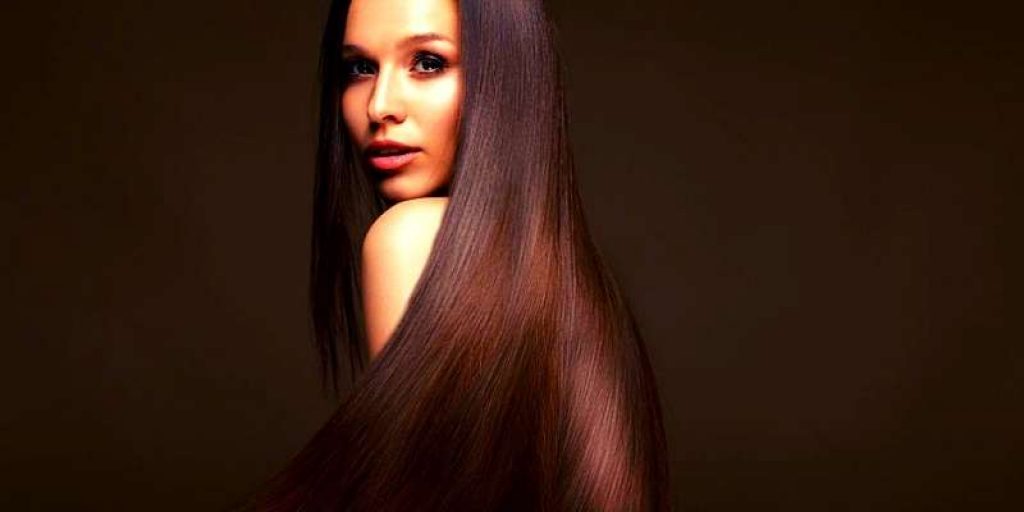 The keratin treatment will be applied to wet hair after shampooing and conditioning, where it will sit for about 30 minutes. While some stylists may apply the treatment after blow-drying the hair, others may apply it first. "To finish, the stylist will flat small iron sections of hair to seal in the treatment since it is heat activated."
What To Expect During A Keratin Treatment
A technician will wash your hair twice with a clarifying shampoo to remove any buildup or residue before the treatment.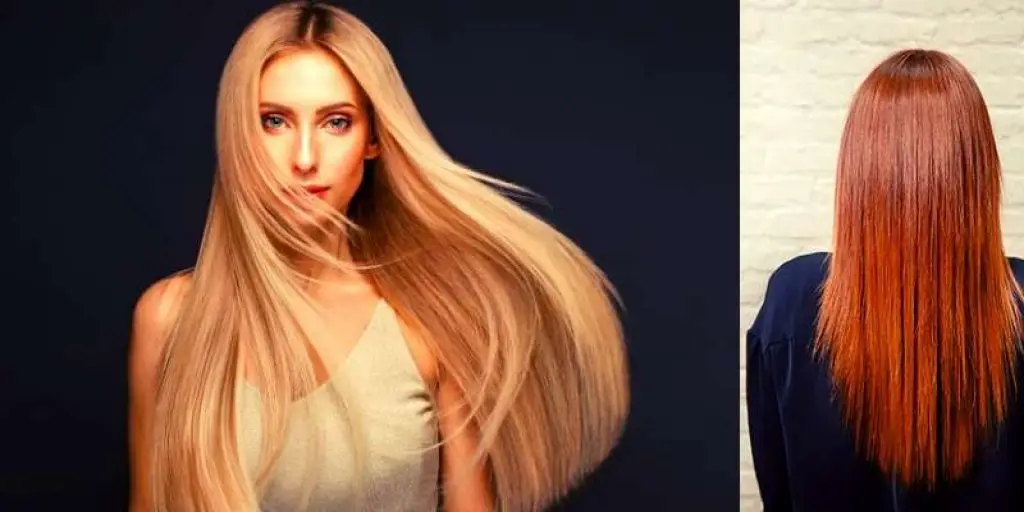 Once the wet hair has been combed through, a keratin solution is applied and left on for two to four hours, depending on the formula used, your hair's texture, and the amount of hair you have—it usually takes that long because of the itchy feeling the solution may cause on your scalp.
Heat is used in the final step to adjust the hair shape, first by blow-drying and then by flat ironing, creating a humidity-resistant finish and smooth, silky strands resistant to heat.
Potential Benefits Of Keratin Treatment
The protein keratin, which is found in hair and nails, is produced by the body regularly.
The keratin used in these treatments may be derived from wool, horns, or feathers.
Some shampoos and conditioners on the market contain keratin, but a professional salon treatment is usually the best way to reap the most benefits.
The following are some of the advantages of either a professional keratin treatment or a DIY keratin treatment:
Smooth, Shiny Hair
Hair strands become more manageable and less frizzy due to the smoothing effect of keratin on the cells that form them. This results in hair that is glossy and healthy-looking when it dries.
Split ends can be temporarily repaired with keratin to lessen their appearance.
Long-Lasting Results
If you take good care of your keratin treatment and wash your hair only two or three times a week, it can last up to six months.
More Manageable Hair
Keratin treatments can help with difficult-to-manage hair, such as thick or curly hair.
You'll notice that your hair dries faster with a keratin treatment if you frequently heat style it. Some people claim that keratin reduces their drying time by more than half.
In addition to avoiding heat damage, air-drying your hair more frequently may improve the health and strength of your hair.
Hair Growth
It is possible to strengthen and fortify hair with keratin, making it less prone to breakage. As a result, hair may appear to grow more quickly because the ends aren't shedding.
The 12 Most Demanding Hair Straightening Creams For Natural Hair
Potential Risks Of Keratin Treatment
Formaldehyde
It's possible to inhale formaldehyde from some keratin treatments.
Hair appears straighter because of formaldehyde.
According to the Environmental Working Group's investigation, some companies will go to great lengths to conceal the chemical's presence in their keratin product.
Cost
The cost of a single treatment can range from $300 to $800, not including the tip. At-home alternatives are less expensive, but the results are not as long-lasting.
Hard To Maintain
Specific individuals may have a more difficult time maintaining their hair if they wash it less frequently and avoid swimming.
How you wash your hair is essential, your keratin treatment may not last as long if you swim in chlorinated or salt water (basically a pool or an ocean).
Additionally, your shampoo and conditioner should be sodium chloride and sulfate-free to avoid stripping the treatments.
Wait until you're done showering before you get in the shower. Keratin treatments require a three- to four-day wait before your hair can be washed, so if you're not a fan of not washing your hair, this treatment may not be for you.
Aftercare
It's best not to wash your hair immediately after the treatment. For three days after treatment, you must refrain from touching or putting it up to avoid denting. Your hair will suffer more damage if you don't properly care for it after the treatment.
Hair loss and thinning can be exacerbated by improperly caring for keratin treatments, which use high heat and harsh chemicals.
Are Keratin Treatments Good For Your Hair?
A single answer cannot be given to this question because your hairdresser's formula determines your hair's health. You should not be worried about long-term damage or side effects if your stylist uses a natural keratin treatment.
For those with colored hair, keratin treatments should be discussed beforehand since the process can be damaging if the hair is overheated with a blow-dryer or flat iron.
Color-treated hair could turn brassy if smoothing treatments are used, so your stylist can examine your hair and offer suggestions. Almost anyone can benefit from keratin treatments, but it is best to consult a professional first.
Is A Keratin Treatment Effective For Hair Growth?
Like the salons, hair-smoothing treatments are usually safe, but they do have some disadvantages. One of the most common is over-treatment.
Over-processing your hair can result in it becoming brittle and thin, so it's critical to use these treatments no more than once a week.
Professional deep conditioning treatment with keratin helps to improve hair growth and can be performed every month to help with damaged hair while also keeping the hair healthy and shiny.
Is It Possible To Have Keratin Treatment If You Already Have Natural Curls?
You cannot get a keratin treatment if you have natural curls. Keratin treatments add extreme humidity levels to your hair, which can cause the hair to break easily.
Keratin treatments can be costly as well. If you use dry shampoos and conditioners, you will do much better with a gentle approach than a complete keratin treatment.
Can Color-Treated Hair Receive A Keratin Treatment?
This is a great question! If you have had a color treatment like a highlight or color extension or a deep conditioning treatment with a product like Ouidad's Creme of Life or enzyme treatment, then your hair might look darker and more brittle.
You can do a keratin treatment to give your hair some shine and prevent it from breaking off. The process involves treating the hair with the right product. It will feel a little wet, and your stylist will blow-dry your hair until the product dries completely.
How to Style Curtain Bangs? | 04 Curtain Bangs Hair Styles
What Is The Process Of Getting A Keratin Treatment?
You probably know about keratin hair treatments that involve chemicals and heat. They're usually costly and can be damaging to your hair. One newer method is a non-chemical and non-heat process called Aveda's Hair Replacement Therapy.
It uses a complex combination of plant oils and protein. This process creates a smooth, strong, shiny hair shaft that lasts much longer than a chemical treatment.
Are Keratin Treatments Bad?
The good news is that keratin treatments aren't harmful in any way and are incredibly safe. They make your hair smoother and shinier than if you had never used them!
Although widely used, there have been virtually no reports of adverse side effects.
Some people have a hard time with the texture of their hair, but that doesn't mean they can't still enjoy using keratin treatments.
How Much Do Keratin Treatments Cost?
A keratin treatment can last anywhere from one to three months, depending on the procedure performed.
However, prices vary widely. A two-week session can range between $800 and $1,200; a monthly maintenance treatment typically costs $150 and $300.
Can You Air-Dry Your Hair After A Keratin Treatment?
Hair treatment can give your hair a new, glossy look. For best results, it is usually recommended to allow your hair to dry naturally following the keratin treatment. Your hair can still be air-dried if you have a hairdryer.
However, it will not look as shiny as if it had been dried with a hairdryer.
But How Does Japanese Hair Straightening Differ From A Keratin Treatment?
The method that is used is a chemical one. The chemicals applied to the hair do not go through the outer cuticle but straighten from the inner layer of the hair shaft. This process takes longer and is less effective than using a Keratin smoothing treatment to treat your hair.
Do You Need A Keratin Treatment Or A Brazilian Blowout?
Keratin treatments are usually done on dry or wavy hair; they're best on thick or curly hair. If your hair is fine or fragile, a Brazilian blowout may be a better option. A keratin treatment will cost anywhere from $40 to $80 per hair cut.
A Brazilian blowout, which includes a shampoo, conditioner, styling products, blowout, and dry, costs $30 to $55. You can also use an at-home product instead of a salon visit for both treatments.
What Keratin Treatment Should I Have?
A gentle moisturizing treatment may be sufficient for fine, thinning hair with few to no visible changes. However, keratin treatment will add extra volume and improve the overall texture and appearance for thicker, coarser, and more damaged hair.
Keratin treatments are also appropriate for hair that is naturally oily or prone to frizz. Hair can become dry, lose its shine, and even fall out due to environmental or hereditary factors so a regular keratin treatment may be recommended.
Who Should Get Keratin Treatment Done?
Keratin treatment should be done regularly to prevent hair damage and breakage.
In addition, your hair is essential to your overall health and well-being, so it is essential to give your hair the special attention it deserves. If your hair has not been professionally treated, now is the time to get it done.
10 Best Hair Fall Shampoo | Causes And Prevention Tips
What Are The Side Effects Of Keratin Treatment For Hair?
Keratin treatments are chemical products that can damage hair or the scalp and lead to allergic reactions. There have been reports of hair loss or discoloration, itchiness, and other unpleasant side effects.
If you are thinking about trying a treatment, talk to your doctor first. In some cases, hair loss or hair color change may occur temporarily during a treatment.
Can I Do Keratin Hair Treatments?
Keratin treatments are most commonly used to repair split ends, improve hair quality and shine, and help strengthen hair for color.
For best results, use a strong protein blend product and a mild conditioner after each treatment.
How To Maintain Keratin-Treated Hair?
The most important aspect of using keratin-treated products is proper care. Follow the recommendations provided with your products, such as the shampoo directions and what you are supposed to do after shampooing.
Remember that if you use keratin-treated products, you must moisturize your scalp and hair when applying these products.
Keep up to date with your maintenance regimen so that you can avoid any damage to your hair.
Does Keratin Thicken Hair?
Keratin is the protein that makes up hair fibers. This allows hair to be flexible and go through growth cycles, shedding, and regrowth without breaking. Hair with a low amount of keratin is fine, soft, and limp.
It is easier to manage because it is more easily brushed, combed, and styled. Hair with a high amount of keratin is more durable and thicker. 
How Often Should I Get A Keratin Treatment For My Hair?
Depending on the type of hair you have and how frequently you wash it, you should receive a keratin treatment once or twice a month. You'll know when your hair needs a keratin treatment when you have long, curly, or coarse hair.
If you have dehydrated hair, you should get a keratin treatment every two weeks.
Who Should Avoid Keratin Hair Treatment?
Keratin allergies have increased in the last 30 years due to the increased use of keratin treatment products. Keratin is a hair protein. Human, horse, sheep, and cow hair all contain keratin. It is also used to make shoes.
The problem with using keratin products is that they can cause serious allergic reactions in sensitive people.
What Foods Contain Keratin?
Hair proteins, also called keratin, are found in wool, hair, fingernails, beaks, hooves, horns, feathers, and fingernails.
Hair protein is not considered a complete protein and needs to be eaten with meat, fish, and dairy products to be metabolized and broken down properly.
Can I Tie My Keratin-Treated Hair?
Hair tied with an elastic band can become extremely dry and stiff. If you are not used to it, tie your hair after applying keratin treatment. Use a water-resistant or waterproof elastic or ribbon to tie your hair.
You can also use a wide-tooth comb. Don't forget to tie tightly so the hair won't become unmanageable.
How Long Does It Take For A Keratin Treatment Session To Be Completed?
A keratin treatment session takes 30-60 minutes to complete. There is no set time; it depends on how much hair you have. Initial treatment will cost you $70-$120. If you opt for an express service that costs $80-$100, it will be completed within 25-30 minutes.
If you choose a complete service treatment that costs $140-$160, it will take about 60 minutes to complete. For this price, your hair will receive a more profound treatment. The cost varies per person depending on your hair type.
The Final Take Away
People with curly or frizzy hair who want their hair to stay straight and smooth for the long term should consider using keratin treatments. Those who want to switch between having straight and curly hair all the time may want to avoid this method.
Have You Ever Wondered How To Use Hair Straightening Cream?