Introduction
The best skin care routine nowadays is considered beneficial for all. There are many valid reasons for this. Growing pollution, worries and competition, and an improper diet and sleep routine are some of those reasons. People all over the world are so busy in the hectic hustle and bustle of their lives that they do not get fresh air, pure water, and necessary nutrients. Moreover, harmful rays of the sun, increasing smoke from vehicles, and extravagant intake of junk foods are the reasons that make the skin worse.
All this has become a necessity so skincare should go hand in hand also. Similarly, it is also important to note that skincare has no gender. Therefore, the best skin care routine is equally important for all. Just as the harmful rays, dust, and pollution do not discriminate in sticking to one's skin pores and cause breakouts, suntan, uneven skin tone, etc. It is not that difficult to take care of one's appearance, most importantly the skin.
The Main Steps To Best Skincare Routine
Just get to know your skin type and preferences such as products that help your skin to nourish in such a harsh environment. Similarly, for beginners,  there are three main steps to execute a skincare night routine on daily basis. They are:
1. Cleansing
2. Toning
3. Moisturizing
Cleansing
The root cause of many skin problems is improper cleansing. Make sure you cleanse your skin twice a day with a proper face wash or soap that suits your skin. Most people skip o cleanse the face the second time on a very important day.  Because your skin is exposed to daylight and many impurities, you wear makeup all day that needs to be removed properly before going to bed. Select a product that is suitable for your skin. When you opt for a product give it at least two months to see its results.  The products that promise instant outcomes cannot be the right solution to your problems and are scary as hell. So, avoid switching products without giving them proper time, unless they cause irritation and inflammation.
Also, consider that the cleansing lotions or face washes do not contain harmful ingredients. They should contain what your skin needs.  After selecting a proper facewash, we come to the proper directions. Use lukewarm water that will cleanse better and take out the dust particles from inside. It should not be too cold or too hot. Avoid rubbing your face harshly. Use your fingertips and move them anticlockwise gently. Massage the whole face the same way (nose, forehead, upper lips,  chin, around eyes) with a light hand. Wash your face with water while massaging. Do not just throw water on your face. The towel that you use to dry your face should be clean.  Try to keep it for your personal use only. Keep it dry. Do not rub it harshly just gently pat it over. The next step that comes just after cleansing is toning your skin.
Toning
After proper cleansing, you need to shrink your skin pores again so that the environmental contaminations cannot be penetrated into them easily. For this, toners are used just after cleansing. Your skin looks more smooth and polished when your skin pore tightened. This step will decrease breakouts and many skin problems. Use it before applying sunscreens or using other makeup accessories. So that, they cannot go inside of your cell gapes and remain on the surface.
Toners also help to make your skin even-toned and also in fading dark spots. Furthermore, they can reduce acne scars, suntan, and fine lines. It can also brighten dull-looking skin. If your skin is dry, you can use natural toners as well such as Rosewater, or use hydrating and soothing toners. Allow toner to settle down in your pores and then apply anything else if you want. Toners allow the moisturizers to get absorbed in the skin well.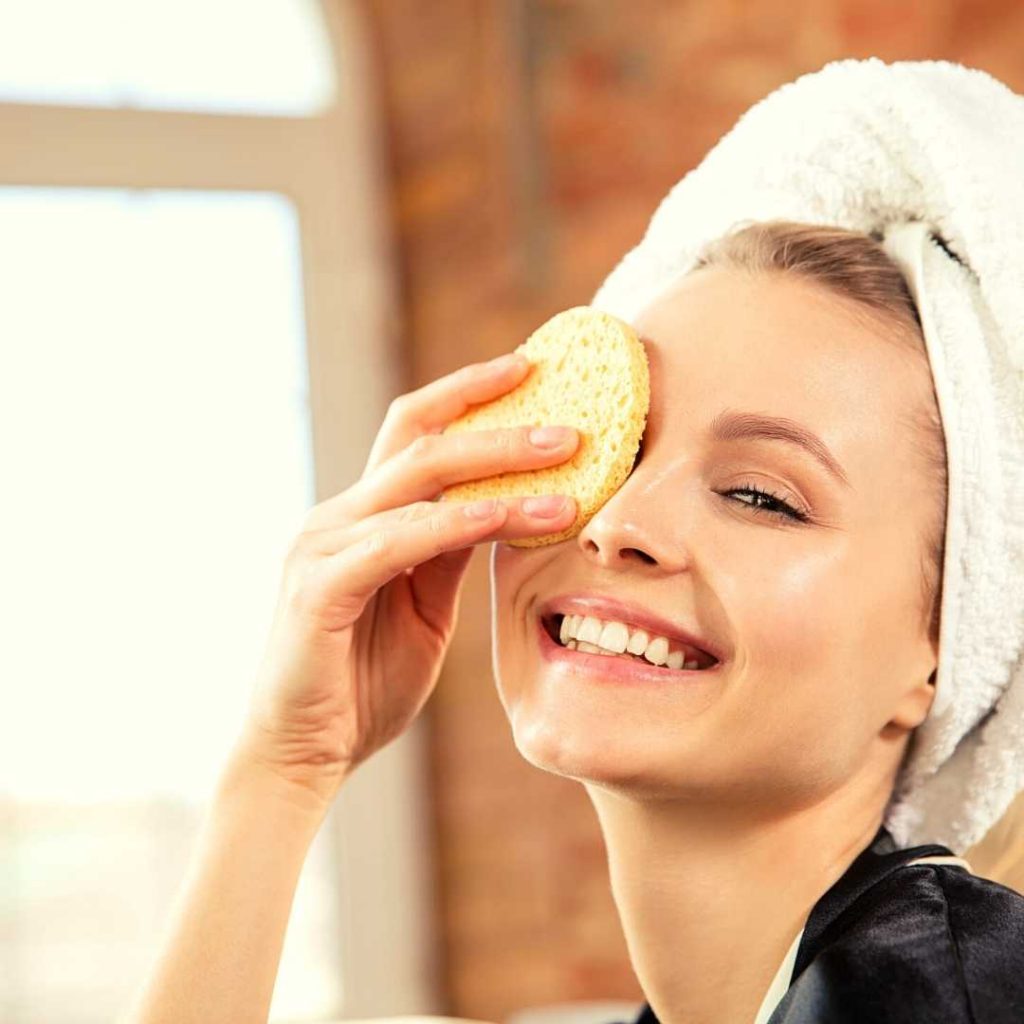 Moisturizing
Dry skin causes immense irritation and dullness and it is more prone to skin problems and inflammations. If you have oily skin, you should also consider that after cleansing, you lose the moisture on your face and need to retain it.  Moisturizers play a vital role in skincare and nourishment. They conceal blemishes and lighten the scars gradually. The process can be slow but if you leave your skin dry and rough, you darken the spots and invite many blemishes to appear more vividly. It does not need too much amount of it. Just take it in one or two plump, warm up in your hands a  little, and apply it to your face properly using the same gentle, circular motions. Use it twice a day just after cleansing to make your skin healthy. It brings vitality to your face and keeps it hydrated.
Sunscreen: Whether you are a student, an employer, or a home cookie, you need protection from the ultraviolet rays because they reach you everywhere and darkens the spots and scars. Whether it is cloudy or sunny, sunscreen is very important and recommended. Choose a sunscreen that is minimum SPF 30. This will work as a shield against the sunrays entering your skin. This is the final step to your best daily skin care routine.
Read more about Best tips for natural skin care routine
Important Skin Care Tips To Consider
Consistency is the key, remember you should spend time with your skin and pay attention to it as well. Covering it up cannot always work. These steps of the best skin care routine are very easy and consume less time and effort. Pay attention to the products you are using. Make sure they do not contain too many ingredients and are suitable for your skin type. You can advance your skincare routine by exfoliating it once a week or by applying a facial mask according to your skin type. Avoid using others' towels/ soaps/ makeup sticks and brushes as they contain bacteria that can harm your skin and can cause severe infections. Try taking care of your skin yourself instead of taking others' services. You can take them occasionally but you cannot always depend on others. Feel yourself responsible regarding the health of your skin just as you do for physical health.
Related articles